Photo by: Scott Doctor / Splash News Online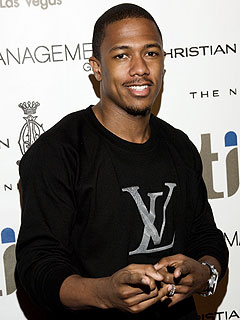 The honeymoon may be over, but Nick Cannon is enjoying the married life even more.
Although his wife Mariah Carey wasn't in Las Vegas with him, the "Wild 'N Out" host said his marriage to the singer is anything but rocky, despite Internet reports to the contrary.
At the opening of Las Vegas's Christian Audigier The Nightclub Friday, Cannon said his marriage is "amazing."
"It's the best thing that ever happened to me," Cannon, who was sporting his wedding band, told PEOPLE.
Arriving just before midnight, Cannon quickly made his way to the club's turntables where he began a two-hour set, spinning hip-hop, techno and rock.
At one point, he put on Shawty Lo's "Dey Know." Bobbing his head to the song, Cannon raised his hand high in the air and shouted the lyrics "Big ups, to all my haters."
Carey and Cannon met on the set of her video "Bye Bye," and after a whirlwind courtship tied the knot in May.