Photo by: Kevin Winter / Getty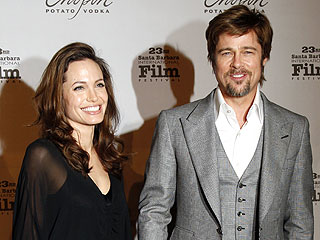 When the moment finally came to welcome their newborn twins into the world, Brad Pitt and Angelina Jolie were as calm as could be.
During the labor and delivery, the couple "were talking, they were together," Dr. Michel Sussmann told reporters outside Fondation Lenval Hospital in Nice, France, where twins Vivienne Marcheline and Knox Leon were born on Saturday. "It was an epidural, so [Angelina] was awake and speaking and laughing. They were happy."
Pitt never left Jolie's side – "he was my assistant!" Sussmann said jokingly – and even cut the babies' umbilical cords.
"He was ... perfectly calm, totally determined, very pleased to be at the birth of his children, very moved and very emotional," said Sussmann.
Asked whether the birth had been a textbook delivery, Sussmann replied, "absolutely no problems."
When will Jolie and the babies leave the hospital? "I don't know," he said. "She will stay for a few days. You know, in Europe it isn't like in the United States, where the patients go home after three days. They will stay a bit longer until everything is okay."
He added: "The babies are fine. The babies are with the mother and father and they are fine."
by People.