Photo by: Fame Pictures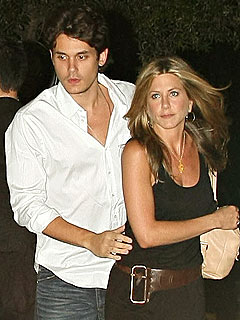 John Mayer's newest roadie – Jennifer Aniston – has been a welcome addition on his tour, say his pals.
"John has such an amazing crew of musicians and friends with him. Everyone gets along and is drama free and Jen fits right in – perfectly," says a Mayer friend. "Everyone really loves her."
At a recent concert in Chula Vista, Calif., Mayer's girlfriend continued to be the subject of fans' anonymous text messages that were displayed on twin screens between acts. One said, "We want Jennifer Aniston to come out now!!!"
Though continuing his less talk, more music approach to his concerts, Mayer rehashed his concerns about recent media coverage of his tour.
"It's kind of a new thing for me to have my stage banter scrutinized. They have been printing everything I say," Mayer told his audience.
But even if the media coverage is exhausting, the source says Mayer, 30, is happier than ever with Aniston, 39.
"They are very happy together, it's working really well and they're only getting closer," says the Mayer pal. "His friends think she's great for him."