Photo by: Stephen Vaughan / Warner Bros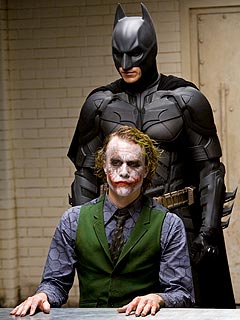 In case you haven't heard – or witnessed at any cineplex this weekend –
The Dark Knight
, Christopher Nolan's dark sequel about the Caped Crusader, took in $158,411,483 since Friday.
Speaking on Britain's
GMTV
Monday morning, the star of the picture, Christian Bale of the impressive box-office take: "It's Monopoly money to me – I can't even comprehend it."
Along with a hearty $27.6 million opening take for
Mamma Mia
– the best ever for a musical, topping last year's
Hairspray
opening – this turned out to be the best three-day weekend in Hollywood history.
Previously, a $218.4 million weekend in July 2007 held that distinction, largely thanks to
Pirates of the Caribbean: Dead Man's Chest
.
The Dark Knight
's haul also exceeds the $151.1 million
Spider-Man 3
made its May 2007 opening weekend. Buoyed by mostly rave notices and Oscar buzz about Heath Ledger's portrayal of the Joker, Bale's second outing as Batman is expected to make $220 million in its first week alone – already more than Nolan's first reboot,
Batman Begins
, made in its entire U.S. run, reports
Variety
.
Among the other records broken by
The Dark Knight
: biggest midnight release ($18.5 million), biggest weekend on IMAX screens ($6.2 million), top single-day take on a Friday ($67.9 million), and most screens (4,366), the Los Angeles Times
reports.
Overseas, the movie was on track to perform similarly, making a strong $40 million on 4,500 screens in 20 territories, breaking the Australian weekend opening for a superhero movie ($13.1 million) and Brazil's best opening this year ($4.3 million).
Women Went to See Streep
As expected,
Mamma Mia
, starring Meryl Streep, appealed to women – who made up an estimated 75 percent of its audience – making the bubbly ABBA musical a excellent complement to
The Dark Knight
's brooding action flick.
There just wasn't enough for two blockbuster superhero sequels in theaters, though.
Hellboy II: The Golden Army
dropped a precipitous 71 percent from last weekend's top spot to fifth place, while Will Smith's
Hancock
stayed in the fight at third place. And
Star Chimps
took in a relatively measly $7.1 million for its opening, earning it seventh place.
by People, Box Office Mojo.