Photo by: Caros Vila / David Krieger / Bauer Griffin; INF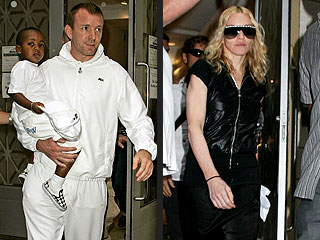 Amid swirling rumors of infidelity and divorce, Madonna and Guy Ritchie took their children to Kabbalah services in New York City on Saturday, July 5. Also in attendance? Guy Oseary, who manages the careers of Madonna and Yankees third baseman Alex Rodriguez, to whom she has been linked.
Madonna arrived at the Kabbalah Centre in Midtown Manhattan with wet hair and sporting large studded sunglasses to shield her face. During the service, the singer sat apart from her husband and on the women's side of the aisle—which is the custom in Kabbalah worship.
The couple's sons David, 2, and Rocco, 7 – wearing matching white T-shirts and baseball caps – sat with their mother, as did Lourdes, 11, who occasionally propped her youngest brother up on her lap.
After the service ended, Ritchie – also decked in a white baseball cap, white T-shirt and white pants – reconnected with his family. They all left together, with Ritchie holding David in his arms.