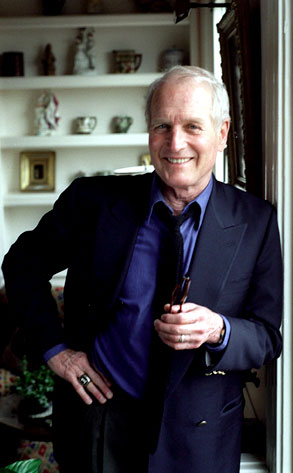 AP
Butch Cassidy, Hud Bannon, icon. Paul Newman excelled in all those roles, and more.
Newman, the Academy Award-winning leading man who specialized in iconoclasts and outsiders, but whose aqua-blue eyes and box office prowess made him one of Hollywood's biggest stars, and whose eclectic interests saw him pursue car racing and salad dressing with equal vigor, died Friday of cancer. He was 83.
Newman succumbed to the disease at his farmhouse near Westport, Conn., publicist Jeff Sanderson said.
In the end, he was, Sanderson said, surrounded by family and dear friends.
Survivors include actress Joanne Woodward, his wife of 50 years, and his professional collaborator for nearly as many.
In a 52-year screen year, Newman earned the 1986 Best Actor Academy Award for The Color of Money, and pulled in 10 overall nominations—nine for acting, and one for producing 1968 Best Picture contender Rachel, Rachel, which starred Woodward, and which he directed.
Additionally, he received two honorary Oscars, in 1986 and 1994, won one Emmy, for 2005's Empire Falls, and rated one Tony nomination, for a 2002-03 Broadway revival of Our Town.
More impressive than the awards was the work. His essential films include:
Hud, the 1963 career-definer about an angry young cowboy;
The Hustler, the 1961 pool-hall drama;
Harper, the ground-breaking 1966 detective drama that made the gumshoe almost as troubled as his clients;
Cool Hand Luke, the oft-quoted 1967 chain-gang movie;
The Sting and Butch Cassidy and the Sundance Kid, his two crowd-pleasing period team-ups with Robert Redford.
Other key roles:
His Oscar-winning return as pool shark "Fast Eddie" Felson in The Color of Money, the 1986 sequel to The Hustler;
His shattering portrayal of an alcoholic, ambulance-chasing lawyer in the David Mamet-penned legal drama The Verdict;
His run through a trio of Tennessee Williams plays turned movies—The Long, Hot Summer, Cat on a Hot Tin Roof and Sweet Bird of Youth;
His cult-favorite turn as Reggie Dunlap, the scrappy player/coach of the Charlestown Chiefs, in the 1977 minor-league-hockey classic Slap Shot;
His latter-day supporting work in Road to Perdition and Empire Falls.
Newman last appeared onscreen in Empire Falls. A year later, in 2006, he supplied the voice of wily Doc Hudson in the animated hit Cars.
A no-show on the night he won his first and only competitive Oscar, Newman was not the sort of movie star who defined himself by the usual trappings. Rather, he was the sort of movie star who redefined what an offscreen life could, or should, be about.
Newman raced cars, placing second in the 1979 24-hours-at-Le Mans endurance test, and helping run one of the most successful race-car teams in motor sports. He sold popcorn, spaghetti sauce, cookies and other treats through his phenomenally successful, charity-funding Newman's Own brand. He led anti-drug campaigns following the 1978 overdose death of 28-year-old son Scott Newman.
"Paul took advantage of what life offered him, and while personally reluctant to acknowledge that he was doing anything special, he forever changed the lives of many with his generosity, humor, and humanness," Robert Forrester, vice chairman of Newman's charity organization, Newman's Own Foundation, said in a statement today.
Born in Shaker Heights, Ohio, on Jan. 26, 1925, Newman came of acting age in the era the Method made famous by Marlon Brando, James Dean and himself. He worked steadily on Broadway and in live TV in the early 1950s.
He made his film debut in 1954's The Silver Chalice, a would-be sword-and-sandals classic. Although the movie bombed and its star was mocked, Newman and his career recovered. Nicely.
The state of Newman's health had been the subject of speculation in recent years. The actor once batted down a report of cancer by issuing a statement he was actually being treated for "athlete's foot and hair loss." But pictures of a thinner-than-usual Newman fueled headlines in June of lung cancer. As the summer wore on, the reports only got grimmer.
Newman announced his retirement from acting in 2007. He cited not his health, per se, but his aging-out memory banks.
"I'm not able to work anymore...at the level that I would want to," Newman told Good Morning America. "So I think that's pretty much a closed book for me."
But what a book it was.
by E!