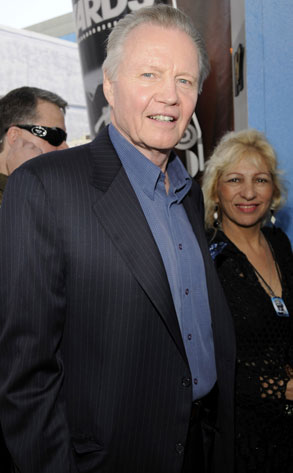 Kevin Mazur/WireImage.com
Things aren't perfect between Angelina Jolie and her dad, Jon Voight. But at least the arrival of new babies is a blessed event everyone can get behind.
"All I can say is, like any father, it's the most exciting that that a new soul is coming in," Voight told E! News Monday at the Television Critics Association press tour, where he was discussing his upcoming role as a baddie on 24.
"You know, I don't think there's anything more exciting than that. And that they're Angie's babies, and Brad's, all my love goes to them. I was very excited. I was just as excited as everybody else."
And how does he feel about his daughter bringing two more grandbabies into the fold all at once?
"My niece has twins, and I spent a lot of time with them when they were babies," Voight said. "They are a big deal. How many people have seen little tiny twins in their lives? It's a big deal, right? Even if they're the world's most remarkable, sleep-oriented, calm children, it's two kids at the same time and it's a lot of work."
Especially when they're part of a brood of six.
Jolie and Pitt welcomed Vivienne Marcheline and Knox Leon—"very unusual names," Voight remarked—Saturday evening at a hospital in Nice, France, where the mayor himself came out to sign the babies' birth certificates the following day.
But while Jolie's brother, James Haven, was one of the first to arrive at her bedside following the delivery—which Pitt didn't miss a minute of—Voight remained all the way in Los Angeles. So who (or what website) presented him with the good news?
"Oh...I can't say...I just had a little inkling," the Oscar winner said, noting that he has not spoken to Jolie since the birth.
But if he's invited out to the south of France to visit the octet otherwise known as the Joile-Pitt family, he'll be there, he added.
"If I'm asked, I'll find a way. But I haven't been asked."
Jolie, Pitt, Maddox, Pax, Zahara and Shiloh have been residing in a leased château in the village of Brignol, near Aix-en-Provence. And, as soon as mom is given the all-clear to leave the hospital, Knox and Vivienne will have 60,000 acres to call home, as well.