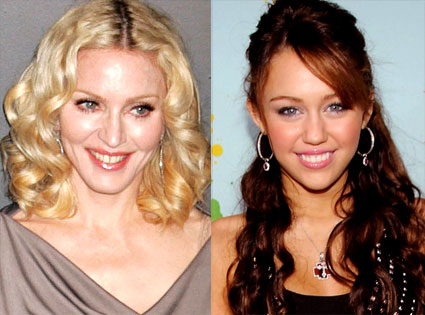 Nancy Kaszerman/ZUMAPress.com, Kevin Mazur/WireImage.com
Working with Miley Cirus reminded Bret Ratner of a "Beautiful Stranger" he once knew.
"She turns it on," the filmmaker, who last month directed the video for Cyrus' new single "7 Things," exclusively tells E! News. "A lot like Madonna."
Ratner, who also helmed the pop icon's "Beautiful Stranger" video for Austin Powers: The Spy Who Shagged Me, says he sees many similarities between Miley and Madonna, besides the whole first-initial thing.
"Where a lot of other artists are nervous or they're primping, you know, Madonna walks on and is casual; cameras are on her and then all of the sudden, wow!" Ratner says.
"Same thing with Miley. She's hanging out, she's telling the jokes, she's laughing, she's signing an autograph.
"Camera goes on her and she was just unbelievable."
And it takes a lot to impress the X-Men: The Last Stand director, who in addition to ordering around Hugh Jackman and Halle Berry has collaborated multiple times with seasoned divas such as Mariah Carey and Jessica Simpson.
"She's just a hard worker," Ratner says of Cyrus. "She knows what her job is; she came and gave me 200 percent."
Ratner also says that he was shocked that, of all the stars he has worked with in the past, he got the most personal requests from friends and friends-of-friends to scope out the "7 Things" shoot.
"Like I said, I've shot for Madonna, Mariah Carey—some of the biggest artist in the world—and I've never had more calls," Ratner says.
"I had at least a thousand calls. 'Can I just come by the set and watch Miley?' and I'm like, 'But you're 40 years old!' "
"7 Things" was the first single off of Cyrus' upcoming album Breakout, the 15-year-old's first effort not involving her Disney Channel alter ego, Hannah Montana (who will surely be there in spirit).
The album is out July 22.
by E!