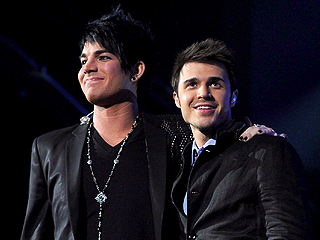 America has spoken!
After months of competition — and a jam-packed finale — Kris Allen and Adam Lambert performed on the Idol stage at the Nokia Theatre Wednesday night in a musical spectacular before learning the results of a little less than 100 million votes.
Keep reading to find out the winner of American Idol.
David Cook, on the verge of relinquishing his title Wednesday night, told Ryan at the start of the two-hour finale: "I don't know that America can get this wrong."
Actually, America's decision will be a point of considerable debate in the next day and maybe even days beyond that — with just under 100 million votes cast, dark horse Kris Allen beat out Adam Lambert, who for weeks has been considered the all-but-inevitable champ.
This is the biggest upset in eight seasons. The result was an even bigger surprise considering that — as even Kris's supporters would concede — Adam gave the stronger performance on the Tuesday performance show. Simon anointed him a "worldwide star."
Apparently stunned by the news of his victory, Kris couldn't help but stammer, "Adam deserves this."
Oh, please! Adam was the most acclaimed Idol contestant ever, but also one of the most divisive.
At any rate, it was an exciting jolt at the end of a long two hours. The show started with the 13 season finalists dressed in white, as if they had just died and were arriving in the afterlife.
Then came a series of duets between finalists and seasoned stars, generally to good results: Adam, in tooled black leather with wire wings as epaulets, had a great medley with Kiss, and Kris grooved comfortably and lightly with Keith Urban on "Kiss a Girl." Megan Joy and Michael Sarver dueted on a sweet little song by Steve Martin called "Pretty Flowers" (with Martin on banjo).
The best moment of all may have been Allison Iraheta joined by Cyndi Lauper on "Time After Time" — it was unexpectedly touching, and made me wonder whether Allison wasn't better than Adam or Kris (although I had been rooting for Kris through most of the season).
There were also the joshing Golden Idol awards, which were an opportunity to bring back Nick Mitchell, a.k.a Norman Gentle, and Katrina Darrell, a.k.a Bikini Girl, still in a bikini but filling out the top part with a great deal more confidence. She was joined by Kara on Mariah Carey's "Vision of Love." (Kara turned out to be a much better vocalist than judge.) And Tatiana del Toro, in a ridiculous joke, stormed the stage and had to be removed by security. Enough!
Just before the vote was announced, Ryan asked Simon his guess. He wisely answered: "You were both brilliant … the future's all yours." – Tom Gliatto
Tell us: What's you reaction? Did America get it right? Were you surprised? Did you enjoy the show? What was the best moment? Discuss!
b People