Photo by: Michael A. Mariant / AP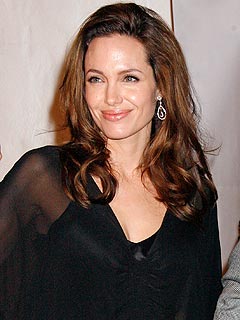 Angelina Jolie and her twins left the hospital early Saturday – a week since she gave birth to Knox Leon and Vivienne Marcheline.
"Angelina Jolie left the Clinic Santa Maria of Fondation Lenval early in the morning of July 19th," hospital rep Nadine Bauer confirmed to PEOPLE. "The mother and babies are doing very well."
There were only a few journalists camped outside the Fondation Lenval hospital in Nice, France, early Saturday morning but even they didn't know for sure when Jolie slipped out of the hospital with her twins at 4 a.m. local time.
Jolie and the newest Jolie-Pitts left Lenval to join their excited siblings – Maddox, 6; Pax, 4; Zahara, 3; and Shiloh, 2 – at Chateau Miraval, the enormous and luxurious chteau in Correns, France, that Jolie and partner Brad Pitt rented in May.
"We saw the cars and we thought it was her but we didn't see anything," one observer said.
Photographers had been stationed on nearby roofs of the hospital, hoping that Jolie would leave as she had arrived nearly three weeks ago – by helicopter.
Bauer added Saturday that hospital staff wanted to thank their own personnel for the attention and care they gave the Jolie-Pitt family. She also released a statement from the hospital, which thanked "those journalists around the hospital who did their best to respect their privacy."
SECRET GETAWAY
Jolie's departure began at about 3:50 a.m. when, according to an eyewitness, a grey Volkswagen minibus with darkened windows arrived outside the hospital on its Promenade des Anglais.
"There was a sudden spray of light out of the hospital's garage way and then four or five people came out of that through a rear doorway," the witness said. "They stood behind the hospital in a small courtyard in the dark."
The courtyard entrance, a gated area for emergency access has been closed during Jolie's stay, "was suddenly opened by someone who was waiting in the bus stop beside the hospital," the witness said. "This group of people got into the van, very quickly. . . . It was all done in a hurry. And they were very quick organizing themselves inside. Very rapid. And then 'Pouf!' they were gone.
"With all the press attention around them, a constant watch on the front of the hospital, they managed to leave so quickly, my hat's off to them," the witness added.
At 9 a.m., Dr. Michel Sussmann, who delivered the twins by Cesarean section on July 12, confirmed the family's departure, telling reporters, "You can go home. The story is over."
Added Bauer: "We enjoyed having her and her family here very much."