Photo by: Kevin Mazur / WireImage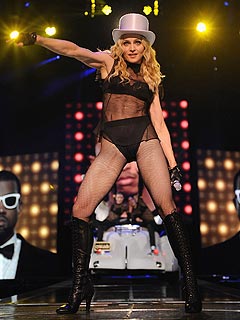 Sitting on a diamante "M" throne in a fringed black leotard and over-the-knee leather boots, Madonna kicked off her Sticky and Sweet tour Saturday night at Cardiff's Millennium Stadium in Wales, opening with "Candy Shop."
The 40,000-strong audience was in for a night of treats, including onscreen appearances by Kanye West, Britney Spears and Justin Timberlake, who dueted on "4 Minutes."
The image of rapper West encircled the stage for "Beat Goes On" as fans screamed and Madonna cruised through on a white vintage convertible car.
Spears made her virtual guest spot during "Human Nature," writhing while trapped in an elevator as Madonna played the guitar. The popster departed with her trademark line "It's Britney B–!"
Madonna sưitched themes multiple times, going sporty for "Into the Groove" in diamante-encrusted shorts and a hoodie, and invoking the Far East for a segment that had her in a cage with computer-generated water gushing around it. "La Isla Bonita" turned the stage into a Mediterranean street party with Greek dancing and a flamenco solo performance.
While fans went wild, husband Guy Ritchie was lending support backstage, according to the singer's rep, who also said Madonna had spent the day rehearsing. "She's been putting the finishing touches to some of the dance routines today, in a good way, she's a perfectionist!"
The 50-year-old singer pulled out all the stops, even using a video interlude to send a political message with images of peace campaigners, Al Gore, Bono and Barack Obama mixed with scenes of war-torn continents and poverty.
Religious messages flashed on the screens behind her for a remixed house version of "Like a Prayer," which was met with mass cheers.
At one point the singer shouted to the crowd, "This is the bit where I take requests," and started singing "Express Yourself" – then changed her mind. "F– that s–. I choose the songs."
After two hours, Madonna left the stage as the screen flashed "Game Over."
The singer heads back to London before traveling to France to continue the tour around Europe before arriving in New Jersey on Oct. 4.
by People.