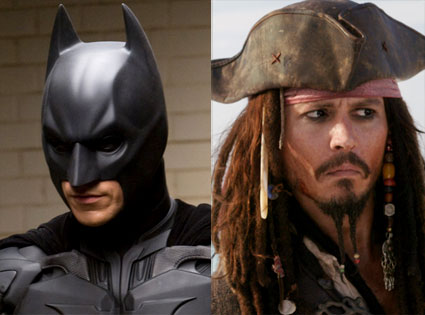 Warner Brothers, Disney
It posted the biggest opening weekend in Hollywood history. It scored the biggest opening week in Hollywood history.
It didn't come close to toppling Titanic.
The box-office tale of Pirates of the Caribbean: Dead Man's Chest might help explain why reaching $600 million, even in the age of the $15 IMAX ticket, is the tallest of orders.
No one ever said making history was easy, Dark Knight.
Among the other five fastest starters in movie history, of which, by the way, Titanic isn't one, The Dark Knight is most closely following the path taken by Dead Man's Chest, the second Pirates movie released in 2006.
After its record-setting opening weekend, The Dark Knight neither plunged, à la Spider-Man 3, which saw ticket sales nosedive 62 percent in its second weekend, nor held up like Cher, à la the original Spider-Man, which dipped only 38 percent.
Instead, its rather standard 53-percent drop put the movie in line with Shrek the Third (56 percent) but even closer to Dead Man's Chest (54 percent).
Like Dark Knight, Dead Man's Chest was a July opener, with no Memorial Day holiday weekend handy to boost admissions. Like Dark Knight, the movie did just fine on its own, grossing at least $10 million a day (and often much more) for its first 10 days. (The Dark Knight went 11 straight days, before "falling" to $9.6 million on Tuesday.)
And like Dark Knight, Dead Man's Chest sped to $200 million and then $300 million in record time.
Then, as it neared $400 million, Dead Man's Chest reached its tipping point.
On day 39, per the stats at The-Numbers.com, the movie failed for the first time to gross at least $1 million in a single day.
From there on, Dead Man's Chest, which had made $393 million-ish through its first six weekends, made just $30 million more through its next 16.
By the end of its run, Dead Man's Chest had accumulated $423 million, a spectacular amount, currently good for sixth place on the all-time list.
But Titanic's even more spectacular haul hadn't been seriously challenged.
As it turned out, Dead Man's Chest went about things all wrong. The way to gross $601 million is:
Opener smaller than The Flintstones. (Titanic's $28.6 million debut is the 238th "biggest" of all time, per Box Office Mojo.)
Play at fewer theaters, at your peak, than Lost in Space.
Never, ever make more than $13.6 million in a single day.
But mostly:
Post your second-biggest day ($13.1 million) on your 58th day in release. (Note: It's easier to do this if, a few days prior, you nab a record-tying 14 Oscar nominations.)
Instead of falling by 50 percent in your second weekend, go up by 24 percent.
Go up by 25 percent in your fifth weekend.
Don't sell fewer than $1 million worth of tickets until…day 102.
In short, make money consistently, constantly and, above all, crazily. And do it all with movie ticket prices going for about $4.69, instead of today's $7.08 average.
Like Dead Man's Chest, The Dark Knight is going about things all wrong. But getting off to the biggest and fastest start ever can make things right.
If Dark Knight stays on the Dead Man's Chest course of gradual midweek declines and modest weekend falloffs—no small task, despite the Batman movie's much stronger reviews—it would pass $400 million sometime next week, and set yet another record. By its ninth weekend, it would cross $500 million, a benchmark that so far only Titanic has passed.
But before that, sometime around Labor Day, near the 45-day mark, The Dark Knight would reach its own tipping point, and fall to under $1 million for midweek daily grosses.
The resilient Titanic managed to gross another $85 million after it posted its first sub-$1 million day. If The Dark Knight did that—and, again, Dead Man's Chest couldn't make even half that much from that point forward—it would get closer to $600 million than any movie this decade. And still fall short.
No, no one ever said making history was easy.
by E!