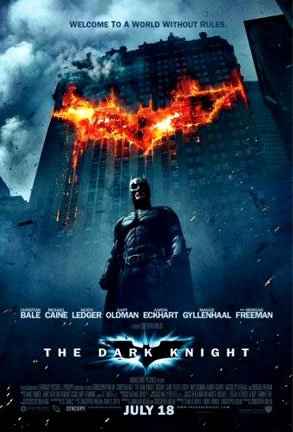 The second-biggest movie in Hollywood history. Sky-high ticket prices. Put them together, and what do you get? Surprisingly, not a record.
From the first weekend in May through Labor Day, the Dark Knight-led summer movie season raked in $4.13 billion, Exhibitor Relations said today, down a tick from last year's all-time figure of $4.16 billion.
The problem, if that's the word, since 2008 goes down as the second-biggest summer on record, was twofold: dwindling attendance; and, lack of a late-summer blockbuster.
Per Exhibitor Relations, Hollywood movies combined to sell about 580 million tickets, the least since 2000, and 25 million fewer admissions than last summer, when gas was cheaper, and, oh, yes, so were tickets, which, on nationwide average, topped $7 for the first time ever.
Despite economic realities, the summer might have been able to pull off another record take if only it had another Jason Bourne.
"After The Dark Knight, it was pretty limp," said Exhibitor Relations' Jeff Bock.
Where 2007 had a bona-fide August blockbuster in The Bourne Ultimatum, which grossed $228 million, this summer's August could do no better than the solid, but unspectacular The Mummy: Tomb of the Dragon Emperor, which has wrapped up about $99 million so far.
The Batman evidently casts a long shadow.
Here are more box-office highlights—and lowlights—of the summer, per Box Office Mojo stats:
Twelve summer-launched films made at least $100 million. Another five have a good shot at passing the milestone.

Six films made at least $200 million. The group included: Kung Fu Panda ($214 million); WALL-E ($218 million); and, Hancock ($227 million).
Three films made more than $300 million. That group included: Indiana Jones and the Kingdom of the Crystal Skull ($316 million); and, Iron Man ($318 million).
One film—The Dark Knight—made more than $500 million, and took second place behind Titanic among the all-time domestic box-office champs.
As it turned out, what Hollywood needed more than one $500 million hit was one more $300 million hit. Last summer's top four movies (Spider-Man 3, Shrek the Third, Transformers, Pirates of the Caribbean: At World's End) actually outgrossed this summer's top four movies, despite no 2007 summer movie making more than $336 million.
As it turned out, woman-fronted movies can make money. Both Sex and the City ($153 million) and Angelina Jolie's Wanted ($134 million) made the summer Top 10. Another movie, the Meryl Streep-led Mamma Mia! ($133 million), just missed the cut, and should pass Wanted shortly.
When does a Top 10 finish mean diddley? When you're The Chronicles of Narnia: Prince Caspian ($142 million), and you made half as much worldwide as your predecessor, The Lion, the Witch and the Wardrobe.
The Incredible Hulk won the battle of the Hulk movies…or did it? The new movie made $135 million from a reputed $150 million budget. The 2003 movie made $132 million from a reputed $137 million budget. Also, old Hulk grossed slightly more worldwide ($245 million) than new Hulk ($244 million).
Last summer as this summer, Steve Carell starred in a $100 million-plus-grossing comedy. The difference is last summer's vehicle was the upside-down Evan Almighty ($101 million gross; $175 budget); this summer's was Get Smart ($128 million gross; $80 million budget).
Assuming You Don't Mess with the Zohan ($99.9 million) can eke out another $110,000 or so, Adam Sandler will be spared his first sub-$100 million-performing mainstream comedy since Little Nicky.
In the department of small victories and possible turning points, M. Night Shyamalan's The Happening ($64 million) wasn't Lady in the Water.
Mike Myers dropped a digit, going from $323 million for last summer's Shrek the Third to $32 million for The Love Guru.
Nominees for the bust of the summer include: Speed Racer ($44 million gross; $120 million budget); and, well…
No film ran a bigger deficit—$76 million, reported budget versus domestic gross—than Speed Racer. Prince Caspian—$58 million in the hole on the domestic ledger—rates an honorable mention.
Rain Wilson's The Rocker was something of the Speed Racer of low-budget comedies. No film opening very wide on more than 2,700 screens made less money in its opening weekend ($2.6 million).
In the age of the record ticket price, how do you not make money (at least not yet) on a movie that only cost $35 million to produce? You gross $21 million, a la The X-Files: I Want to Believe.
Based on the performance of Fly Me to the Moon ($7 million gross; $25 million budget), the future of Belgian-produced CGI movies about insects doesn't look bright.
Tween girls giveth, and tween girls taketh away, which is one way to explain why The Sisterhood of the Traveling Pants 2 ($42 million) clicked, and Kit Kittredge: An All American Girl ($17 million) didn't.
If you didn't release a movie this summer, then the dumped Clive Barker horror film, Midnight Meat Train, only made $83,361 more than you.
And here's a rundown of the summer's Top 10 movies, per grosses through Monday:
The Dark Knight, $505 million
Iron Man, $318 million
Indiana Jones and the Kingdom of the Crystal Skull, $316 million
Hancock, $227 million
WALL-E, $218 million

Kung Fu Panda, $214 million
Sex and the City, $153 million
The Chronicles of Narnia: Prince Caspian, $142 million
The Incredible Hulk, $135 million
Wanted, $134 million
by E!