Photo by: Daniele Venturelli / WireImage; Scott Gries / Getty; Brian Zak / Sipa Press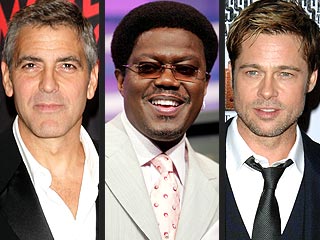 In the wake of the untimely death of Bernie Mac Saturday morning at age 50, fellow entertainers fondly remember the standup comic and actor as a quintessential funnyman – and a warm guy.
George Clooney, who starred with Mac in 2001's casino caper
Ocean's Eleven
and its two sequels, says, "The world just got a little less funny. He will be missed dearly."
Said fellow
Ocean's
colleague Brad Pitt, "I lament the loss of a ferociously funny and hardcore family man. My thoughts are with Rhonda and their family. Bernie Mac, you are already missed."
Mac, who died at Chicago hospital of complications from pneumonia, will be seen this fall in the comedy feature
Soul Men
opposite pal Samuel L. Jackson, who says, "It goes without saying that Bernie was one of the preeminent comedians of our generation."
The actor added, "He was also an attentive husband, a great father and loving grandfather. I feel blessed to have shared years of friendship with Bernie Mac, and I'm honored to have finally co-starred with him in what I consider to be his finest cinematic acting achievement.
"My sincere prayer is that his family will be comforted by the warmth of love from all of us who knew and respected this man."
George Lopez, Luke Wilson Remember
To fellow comedian George Lopez, "He was one of those comics that was unique because of his approach, his look, his voice [and] the content of his material."
Admitting that at times Mac's material might have sounded a little rough, especially to the ears of younger people, Lopez, during the press junket for
Henry Poole Is Here
, told PEOPLE, "Bernie fell into that category of people who were inherently different like when you saw them, you knew they were different and when they spoke, you knew they were different ."
Admiring Mac's gifts, Lopez also said, "As comics, we're all brothers. and I'll miss him a lot. He was a good friend of mine."
Henry Poole
star Luke Wilson, Mac's costar in
Charlie's Angels: Full Throttle
, told PEOPLE, "He couldn't have been a nicer guy. He just seemed like a real family man and just a nice guy on the set, just very kind of normal guy."
Actress-comedienne Niecy Nash, who played Mac's sister on
The Bernie Mac Show
, recalls his knack for making fellow actors feel at home on the set.
"When I showed up to work, he said something to me that had never been said to me on a set before," she says. "He said, 'Baby girl, the script here is not the Bible. Do you, and I'll follow. I got mine, you get yours.' When he said that, I knew everything was going to be all right. I was happy to have the freedom to make up some funny with him. It was simply delicious."
Adds Nash, "My working experiences with Bernie were so amazing, that from that point on, I wouldn't have cared if he called me in the middle of the night to come and be in a scene where I didn't have anything to do but sit in the background and eat cereal. I would've just done it because I loved him like that."
by People