Photo by: Ron Edmonds / AP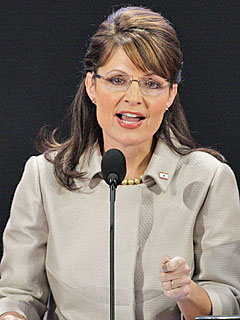 After having famously joked at her party's convention, "You know what they say about the difference between a hockey mom and a pit bull? Lipstick," what sort of lipstick
does
Republican vice-presidential nominee Sarah Palin prefer?
The
Insider
spoke to Palin's closest friends and found out, uncovering these 5 things you may not know about her:
•
She's frugal
. "Sarah gave me a thank-you card after I helped her with her lieutenant-governor race," said her friend, Kristen Cole, who has known the Alaska governor since childhood. "She liked the card so much that she didn't sign it so I could give it to someone else."
•
She's a techie.
Palin prefers texting to phone calls.
•
She's a rock fan.
She named her son Trig Paxton Van Palin because it sounds like the band Van Halen. Says friend Judy Patrick, a former city council member who has known Palin for 12 years, "How cool was that to have a kid named Van Palin?"
•
She's adaptable.
Palin used to wear Mary Kay lipstick, but she now prefers MAC.
•
She's a traditionalist.
Palin is against waxing. Cole recalls: "I remember that one of her girls wanted to get her legs waxed, and Sarah said, 'Are you kidding me? What's wrong with a razor?' "
by People.