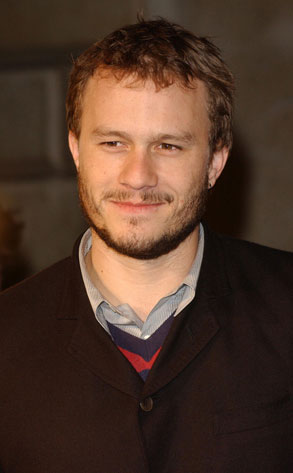 ZumaPress.com
Jane Doe is adamant about keeping her Heath Ledger lawsuit alive.
Weeks after a judge dismissed 11 of 12 claims in her invasion-of-privacy lawsuit against celebrity photo agency Splash News, the unidentified plaintiff has revised her complaint by downplaying her role as a working reporter at the time she supposedly saw Ledger get suckered into being filmed while in the presence of cocaine.
The woman, who has identified herself only as "Jane Doe" in court documents, alleges that two photographers—one of whom she was dating at the time—purchased coke specifically for the night of the 2006 SAG Awards, then invited Ledger back to a room she had booked at the Chateau Marmont hotel in West Hollywood and secretly filmed the Brokeback Mountain star drinking what looks like a beer and talking about drug use.
In dismissing a number of claims, L.A. Superior Court Judge John S. Wiley Jr. cited the plaintiff's job (People magazine has confirmed that she was working as a freelancer at the time), ruling that she voluntarily inserted herself into the situation.
Besides that, Wiley said, Ledger was the only one who could rightly claim emotional distress and unjust enrichment from the illegal footage on the part of Splash News because his was the only face and voice on the tape (the plaintiff's face was blurred) that made the footage valuable.
The only claim the plaintiff had left to pursue after the judge's dismantling was trespass.
In a revised nine-count complaint filed Thursday, the woman says that she was only assigned to observe the Brokeback Mountain and Capote afterparties taking place at the hotel. She was not authorized to conduct one-on-one interviews with the celebrity guests, her suit states.
Ledger didn't agree to go back to her room in the company of reporters; rather, he was tricked into joining a guy who had befriended him at the party, the new complaint reads. The Splash News employee then invited her back to the room with them and did not include the other photog who later filmed the group.
Jane Doe's camp, emphasizing that she was not angling for a scoop at the time, states that she was "excited and almost could not believe that she was going to 'hang out' with the person who was nominated for a SAG award."
Splash News hasn't yet commented on the revision, but the agency said in its original motion to dismiss the lawsuit that Ledger's actions in that hotel room were newsworthy and fair game for Splash reporters and that the plaintiff had "improperly attempted to assert the rights of a dead celebrity within her complaint."
by E!