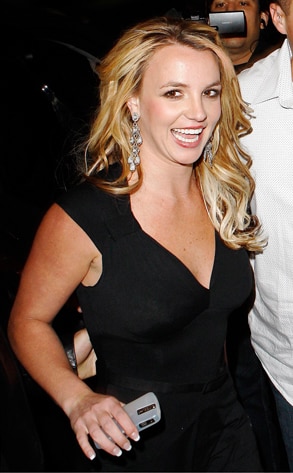 x17online
Britney Spears didn't even have to show up to come back in Liverpool.
The again-viable pop star was named Act of 2008 in absentia at the 2008 MTV Europe Music Awards, which were handed out Thursday in the Beatles' hometown.
Fittingly so, considering Paul McCartney was on hand to collect his Ultimate Legend award from a reverent Bono. McCartney thanked his "mum and dad," the people of Liverpool, his former bandmates and Americans, "for voting in Senator McCain."
Spears also snagged a trophy for Album of the Year for Blackout, making her and 30 Seconds to Mars (Rock Out and Video Star) the most winning artists of the night.
But while Spears taped a video thank-you message ahead of time, she was otherwise engaged tonight. Sources tell E! News that the "Womanizer" songstress is headed to Los Angeles' Dodger Stadium, where she and Justin Timberlake are supposed to reunite onstage with Madonna, whose Sticky & Sweet tour touched down in SoCal Tuesday.
Other big winners included girl-kisser and the evening's host Katy Perry, who was named Best New Act and sported a dress emblazoned with Barack Obama's face; Artists' Choice Lil Wayne; Best Act Ever Rick Astley; and Pink's "So What," which was named Most Addictive Track.
Also sharing the political love was 30 Seconds frontman Jared Leto, who sported an Obama T-shirt and urged the crowd at Echo Arena to chant the U.S. president-elect's name.
Beyoncé, the Killers, Pink, Kanye West—who didn't try to pilfer the Best Video statue this time—and British singer Estelle all performed.
Details on awards: