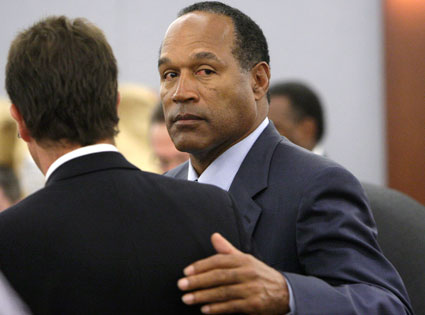 Getty Images
Oct. 3, 1995: O.J. Simpson acquitted of killing ex-wife Nicole Brown and Ron Goldman.
Oct. 3, 2008: O.J. Simpson found guilty of a dozen of crimes, including armed robbery and kidnapping, that could put him away for life.
Exactly 13 years after he skated on the murder rap, and after 13 solid hours of deliberations, a Las Vegas jury convicted the Hall of Fame running back and erstwhile Naked Gun star of masterminding a raid on two sports memorabilia dealers.
Tasked by District Court Judge Jackie Glass to reach a verdict or work through the weekend, the nine-woman, three-man panel stayed late at the Clark County Courthouse, even having dinner delivered, before reaching the verdict shortly before 10 p.m.
About 40 minutes later, Simpson entered the room to learn his fate. After the judge read the verdict, Simpson, 61, and codefendant Clarence "C.J." Stewart, 54, were cuffed and hauled away. They will remain locked up until their Dec. 5 sentencing.
Simpson's daughter, Arnelle, and sister, Carmelita Durio, clutched each other as each count was ticked off. They cried as Simpson was led out by officers and then Durio collapsed, prompting a call to paramedics.

Simpson attorney Yale Galanter—who in Thursday's closing arguments called his client "stupid" for staging the so-called "sting" operation but said he did nothing criminal—has already vowed an appeal.
Jurors declined to talk to the media about their reasoning.
According to authorities, Simpson and five other men barged in on the two memorabilia collectors, Bruce Fromong and Alfred Beardsley, at the Palace Station, an off-Strip Las Vegas hotel, on Sept. 13, 2007. Simpson believed the two men had items that had been swiped from him.
Several of his accomplices cut deals, leaving Simpson to stand trial with Stewart, a Vegas mortgage broker.
All told Simpson and Stewart were convicted of 11 felonies (conspiracy to commit kidnapping; conspiracy to commit burglary; burglary while in possession of a deadly weapon; and two counts each of first degree kidnapping with use of a deadly weapon; robbery with use of a deadly weapon; assault with a deadly weapon; and coercion with use of a deadly weapon) and one gross misdemeanor (conspiracy to commit a crime).