Photo by: B. Ach / INF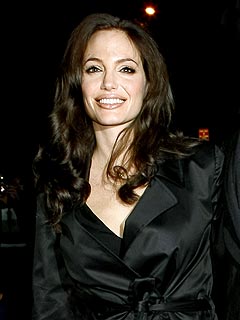 Having landed in NYC earlier in the week, Angelina Jolie arrived with Brad Pitt and walked the red carpet at the New York Film Festival for Saturday night's premiere of her movie
Changeling
, a 1920's thriller directed by Clint Eastwood.
Asked if she felt nervous to be back in the spotlight, Jolie told PEOPLE, "Not nervous as much as I just took a deep breath because it¹s been so long. It felt a little strange."
The Manhattan visit marks the first time since the birth of the twins, Vivienne and Knox, that Jolie and Pitt have been in the city with their children.
"Everybody's great," she told PEOPLE. "The babies are getting big and healthy and developing personalities."
Breastfeeding Helps
As for being in the city that never sleeps, Jolie, 33, said, "We are a little bit [sleep deprived]. We have some help a couple of nights a week, so on those nights we catch up on our sleep."
Still, as ever, she looked ravishing – decked out in an Atelier Versace dress, Sergio Rossi shoes and Mikimoto pearl earrings and ring – after a day of taking her three eldest kids (Zahara, Maddox and Pax Thien) to Lee's Art Store midtown, while Brad went downtown to see photographer Jerry Spagnoli at his studio.
"I run around with all the other kids, and I'm breastfeeding, which I think is a part of your body's recovery," Jolie said. "I feel great [and] feel very happy that they're healthy."
On Her Movie
Of her new movie, in which she plays a mother whose son is kidnapped, Jolie said, "Your worst fear is anything happening to your kids. The reason I didn't want to do the film for a long time … every day I came home, and I was so clinging to my kids. I was grabbing them. And checking them in the night. It scares me."
As for adopting more children, she said, "I think we're going to wait a little while."
by People