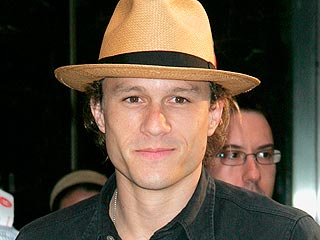 Heath Ledger's family gathered at an Australian beach to remember the actor, who died a year ago and is now being honored with an Oscar nomination for
The Dark Knight
.
"We are still all nursing broken hearts," older sister Kate Ledger said Friday in Perth. "Like anyone who loses a family member, it has opened our eyes to the intense suffering and painful journey that is death."
Kate and two half-sisters, Ashleigh Bell and Olivia Ledger, stood under clear blue skies at the Indiana Tea Room on Cottesloe Beach, one of Ledger's favorite spots and the site of his wake after his funeral. Ledger's father, Kim, and mother, Sally Bell, were also in attendance but did not speak to the media.
Ledger, 28, died of an accidental overdose of prescription drugs. He left behind his 3-year-old daughter, Matilda, with actress Michelle Williams.
"Michelle is doing an amazing job with 'our girl' and together we will cherish every moment of her steps through life," Kate Ledger said.
The actor's younger sister, Ashleigh, acknowledged his Oscar nomianation Thursday for his wicked portrayal of the Joker in
The Dark Knight
, noting that "in Heath's words, he had 'the time of his life.'"
"Although we would love to have him here with us, we are so proud and so excited on his behalf," Ashleigh said. "We will take this opportunity today to honor his wonderful life and take comfort in knowing Heath will continue to touch future generations through this amazing art form."
She added: "What an unbelievable legacy he has left for Matilda and our family."
The family enjoyed a commemorative lunch in the Indiana Tea Room after speaking with the media.
by People!